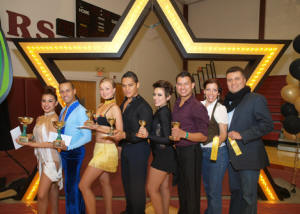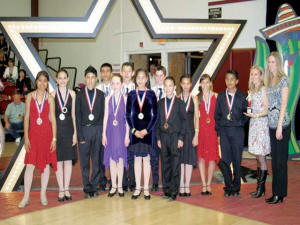 More than 1,500 people attend this California dance event that combines West Coast Swing, Lindy, Salsa, Ballroom, and Country into one enormous convention. It pays special attention to Youth divisions and offers Open-Open divisions to attract the Best of the Best.

We interviewed event director, Lisa Sandoval, to learn more.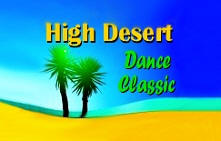 USASN: What is your dance / competition background and how did your event get started?

LS: I actually started dancing ballroom my freshman year at Ohio State and started a dance club there. I became really involved in ballroom dancing in graduate school when I was in Madison, Wisconsin and was a part of the Youth and College Network in ballroom dancing and competed amateur for 20 years .I used to run several collegiate/adult amateur dance events in Ohio and was involved in the Collegiate Ballroom Nationals in Ohio so I loved organizing events. When I moved out to California 11 years ago, I guess I could not sit still and I started High Desert Dance Classic 8 years ago. About 6 years ago I fell in love with West Coast swing and the fact I could dance without a partner and realized it was possible to create an event that could offer West Coast Swing along with Ballroom/Latin/Salsa.


USASN: You host the largest dance convention in the country that offers West Coast Swing dance competitions and workshops but mixes-in other dances like Lindy, Salsa, Ballroom, and Country to round out the menu. Tell us what the concept of this event is all about.

LS: You know the truth is, I love all kinds of partner dancing. My background in ballroom in the college scene made me realize there could be such an event where you could mix the worlds of West Coast Swing, Lindy, Salsa, Ballroom, ad Country. Tricky, but it can be done.
In the collegiate ballroom world we had weekend competitions with over 96 events in a day, plus workshops, plus social dancing. I really missed that model when I moved to California. So, my concept is that there is something for everyone.
I believe that when you go to an event you should be able to take fabulous workshops (25+) with amazing instructors, dance to wonderful music, and be able to enter into as many dance competitions that you are able to given you know that dance. So yes, we are a World Swing Dance Registry Event, but you can also compete in Salsa, Lindy, Ballroom, Latin, and Country, as well.


USASN: Youth divisions are a big part of your focus. Tell us more about that philosophy and what your goals are in this area.

LS: Again I have to credit the USA Dance Youth and College Network as I spent 8 years on the National Council working in the Collegiate and Youth division and trying to devise a Youth Pilot Program. My belief along with so many others is that our future of dance lies in our youth and creating affordable and wonderful programs for young people. It was not until I moved to California and as a speech pathologist at a school K-8 that we were able to see if a pilot program would work. A few years later- my friends who were teachers as well as dancers- were all having lunch and they all said, "Why can't we do this?" and Dancing Feet our school Youth Ballroom Program was born. After 4 years we have now offered this unique program to thousands of children. Our program now is 5th-8th grade so yes, a portion of High Desert Dance Classic is dedicated to holding the Dancing Feet Semi Finals and Finals.


USASN: What makes your event special?

LS: Wow. Great question. Everything really. Our theory was our event should be affordable, fun, staffed with an amazing judging and teaching staff who come back every year:), over 30 workshops from beginner-advanced in all styles of dance, great deejays, great performances, talented dancers, and something for everyone of all ages and all levels. One of my favorite dance competition events is our "Open to All", which is just that. Anyone of any level can compete in dances such as Open to All Lindy, Open to All Country 2 Step, Open to All Cha Cha, Open to All Salsa. It is always great fun to see some of the best dancers in each of these areas compete. And then there is also the Fun Team Match where anything goes and it is always my favorite event of the weekend.


USASN: Who attends your event (states, age groups, dance genre mix)?

LS: Of course, California. But most recently we have started to pull from other Western states of Oregon, Washington, Utah, Arizona, Nevada, Hawaii. And this year we added New York and Georgia. Our age groups range from 10 years to adults of all ages, and we were really lucky this year to have more high school and college students participating in our event.
USASN: Reflect briefly upon the past - dancers, growth, special moments.

LS: Highlights would be adding amazing staff members that are US Champions and bringing them into our own backyard. Also, being granted World Swing Dance Registry status which we have now been a WSDC registry event for the past 5 years. Adding the Open Salsa 3 Dance Championships, bringing World Salsa Champions to compete at our event and expanding the Dance Force Youth Ballroom Program from 8 schools to 22 schools and different counties and cities.

Click here to connect to event website!