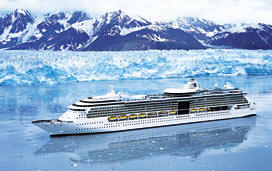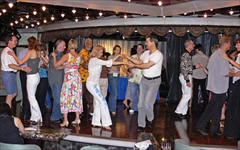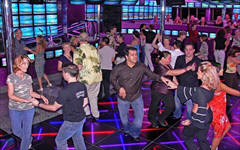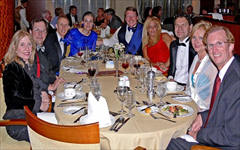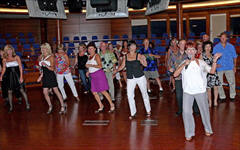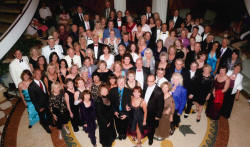 For those of you who have never gone on a Dance Cruise, read this feature story. Once you do, you'll want to get on the phone and book passage right away.

Even though attending dance conventions can be lots of fun, most dancers have already done that in city after city around the country. But dancing at sea and enjoying a 7-day scenic vacation is something special.

Sundancer Cruises

Sundancer Cruises is one of the veteran dance cruise operators on the national dance circuit. They host hundreds of dancers each year on their dance cruises that travel to magnificent places like the Caribbean, Mexico, Alaska, Hawaii, and Europe. They offer a variety of dance genres like Swing, Hustle, Salsa, Latin, and Ballroom as part of their dance mix.

For less than you would spend for a land trip, you get a 7-day cruise that includes cozy lodging, unlimited food, first-class theatrical entertainment, dance workshops, social dancing, fabulous amenities, and a chance to visit exciting ports of call. You just can't beat it.
Cruise Features
Welcome-aboard Party

Complimentary 24-hour Stateroom

Swimming Pool & Jacuzzi

Health Spa & Fitness Center

Fine Dining & Late-night Buffets (all meals included)

Singles Cocktail Party

Past Cruiser Party

Various Bars and Lounges, Bands and Orchestras

Gaming Casino

Las Vegas-style Stage Shows

Galleria Duty-Free Shops

Shore Excursions in Ports

Dance Workshops by Top Instructors
The Ship
You'll cruise aboard some of the finest ships in the world that offer features like a pool, spa, game rooms, fitness center, wave machine, theatre, and more.
The Participants

Sundancer Cruises are so much fun that more than 50% of their participants are repeat customers on every cruise. That number tells you all you need to know about the value and quality of the experience they provide their customers.

With a limit of 100 dancers per cruise, the atmosphere and camaraderie is more personal than large dance conventions numbering over 500 people. And the scenery is magnificent with views of tranquil open seas and charming coastal towns. You won't get that in a land-based convention hotel.
As Cathy states, "If you like dancing, traveling, meeting new friends, and experiencing adventure on the seas, call us and book passage on a Sundancer cruise. You'll have the time of your life - and lasting memories to enjoy".


Phone: 866.409.SAIL or 303.250.7344

Click website for detail about the upcoming British Isles Cruise on June 27th, 2017.


www.sundancercruises.com