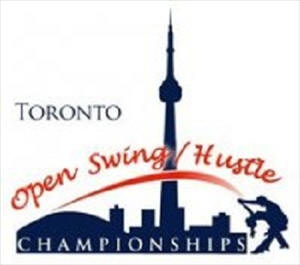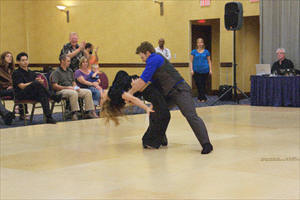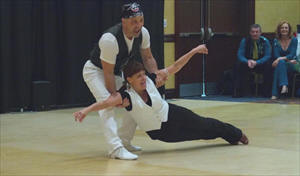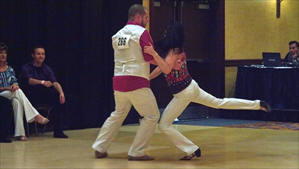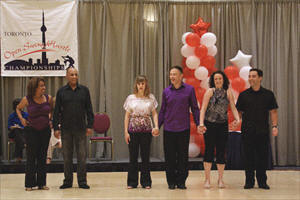 Toronto is one of the great cities in North America and The Toronto Open is one of the most enjoyable events on the USA Swing Net circuit. We spoke to event directors Mary Adams and Lee Anne Clelland to learn more about Canadian competition.
USASN: Tell us about your event and what makes it Special?

TO: Toronto Open Swing Hustle Championships (TOSHC) was established in 2008. TOSHC offers 4 days of spectacular shows, competitions social dancing, and over 60 hours of instructional workshops for all levels, from Beginner to All-Star. Now in our sixth year, we are broadening our horizons to include the ballroom world in our competitions in an effort to bring the world of Swing and Ballroom together under one umbrella. There is truly something for everyone - even those who just want to come and enjoy watching the performances and competitions.

USASN: What states send dancers to your event in addition to the Canadian crowd?

TO: Dancers from states like New York, Ohio, Texas, Massachusetts, Florida and Pennsylvania come to take part in our event. Internationals stars and attendees from all across Canada attend as well.

USASN: Do any dancers come from Europe?

TO: In the last few years TOSHC has welcomed guests from as far away as France, Poland and England (Bristol and Wiltshire). With our "Pass" exchange program we are hoping to reach many more places for future events.

USASN: Do you have a particular philosophy or strategy for the overall concept of your event?

TO: TOSHC prides itself on having something for everyone, whether they are a dancer or not. TOSHC's objective is to teach all those who participate in our event to embrace "partnership" dancing from a lead-and-follow perspective. Our objective is to relate to all people who want to learn to dance at every age and provide them with the very best instruction by our dynamic pros, which in some cases they may not otherwise have the benefit of.

USASN: Who are some of the Elite Pros teaching at your event?

TO: For 2013, TOSHC has assembled a selection of Pros who will be teaching workshops in West Coast Swing, Hustle, Lindy Hop, East Coast Swing, and a variety of other dances.
This year TOSHC has invited back some of it's regulars, such as Beata Howe (Head Judge), Mike Topel, Terry Roseborogh (& Melissa Ryann), Robert Cordoba (& Amanda Warren), Tina Price, Billy Marti and Veronica Castilla, as well as Arjay Centeno, Debbie Figueroa, Deborah Szekely (& Ben Hooton), Erica Smith, Dave Damon (& Marielle Manzone). We also have our very own Mary Adams, Maria Ford & David Ward, Bryon Alley and Natalia Rueda, Julie Epplett, Sean Browne, Dan Amores, Luis Aredondo & Natalia Grane, Scott Ruddick, Jennifer Aucoin & Angelo De Torres, and Marie Zimmer.
Workshops provide valuable tips for competitors with the emphasis on preparing the Newcomers for the Jack and Jill competitions.

USASN: Tell our dancers about the bonus of visiting Toronto as one of the premier cities in North America.

TO: TOSHC is held in beautiful Toronto, Ontario, home of the World's tallest building, the CN Tower. Toronto also has the popular Air Canada Centre, Canada's Wonderland, Ontario Science Centre, Royal Ontario Museum, Casa Loma, and so much more. Visit us at www.attractionsontario.ca for all shows, festivals and other events taking place in and around the Toronto area in the weeks prior to, or after our event. If you want to visit the Falls, or tour Wine Country in Niagara, it's only 45 minutes away.

USASN: What message do you have for dancers who are thinking about attending your event?

TO: TOSHC prides itself on having a dedicated Beginner Track specifically for the new dancers. Our Beginner Track is progressive in nature providing participants with 3 hours of workshops in the same genre of dance.

There is a lot of private lesson time with the Pro's, social dancing and other activities with the Pro Staff.

Thursday night at our Pre-Event party we are known for our "Pro Dance Card". We invite the Pro's to come early and participate in our Thursday Dance wherein all attendees get the opportunity to dance with them. And let's not forget the Free Social Dance Critiques through out the weekend.

This year we have added some additional competitions such as Lindy Hop and East Coast Swing. We now offer Masters WCS, Hustle, Lindy Hop, & ECS, Pro-AM WCS, Hustle, Lindy Hop & ECS, Masters Strictly in WCS, Hustle, Lindy Hop & ECS, as well as Jack and Jill in WCS, Hustle, Lindy Hop & ECS. AND, we have our Triple Treat, Cha Cha, WCS and Hustle.

By welcoming the Ballroom segment to our event we are providing the opportunity to transfer the ballroom structure and expertise into the WCS.

TOSHC has 4 workshop rooms and approximately 9,000 sq ft of ballroom space to dance. When you attend TOSHC you truly get an opportunity to enjoy all styles of dance.
Website: www.toshc.com



Mary Adams Lee Anne Clelland