EVENT DATE
December 28, 2017 - January 1, 2018
CITY
Orlando, Florida

HOST HOTEL
Rosen Plaza Hotel
HOTEL RATE
TBA
EARLYBIRD TICKET PRICES
TBA
ESTIMATED ATTENDANCE
600

DANCE COMPETITIONS
WC Swing

BALLROOM SPACE
Two ballrooms
WORKSHOPS
TBA
HOST
Danielle Blouin-Oates / April Prince

AFFILIATIONS / TOURS
World Swing Dance Council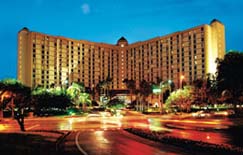 - HOST -
Mark Traynor

- EMCEE -
Alan Annicella & Renee Lipman

- WEST COAST SWING STARS -
Jennifer Deluca
PJ Turner
Taletha Jouzdani
Michael Kielbasa
Marcus Smith
Trendlyon Veal
Danielle Blouin-Oates
Trish Berlanga
Jeff Mumford
Demery Leyva

- DEEJAY STARS -
April Prince"K-Mac
Anne Johnson
Don Schanangerger
Josh Angel

- EVENT FEATURES -
Saturday Entertainment Show
Grand Buffet Dinner
New Year's Eve Party Favors
Midnight Champagne Toast
- EVENT OVERVIEW -
Floorplay Swing Vacation is Three events in one - a Swing Dance convention, a New Year's Eve Holiday celebration and a Vacation event.
Held at the luxurious Rosen Plaza Hotel in Orlando, Florida, this event is just miles from Disney World, Sea World, Universal Studios, MGM Studios, and Wet 'n Wild theme parks - so it doubles as a tourist destination.
Included in the Weekend Pass are an Entertainment Show New Year's Eve Dinner, and a New Year's Party with champagne. So end one year and kick off another while dancing all weekend in Orlando!