EVENT DATES
July 1 - 5, 2015
HOST CITY
Scottsdale, Arizona

HOST HOTEL
Camelback Inn & Spa
EARLYBIRD HOTEL RATE
$130
EARLYBIRD TICKET PRICES
$159
ESTIMATED ATTENDANCE
800

DANCE COMPETITIONS
WC Swing

BALLROOM SPACE
7,200 sq. ft. (Multiple Floors)
WORKSHOPS
30
HOST ENTITY
Greater Phoenix Swing Dance Club

AFFILIATIONS / TOURS
World Swing Dance Council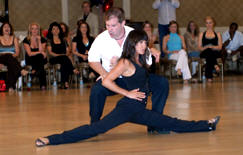 - EMCEES -
Robert Royston
Ben McHenry
- DANCE STARS -
Jordan Frisbee & Tatiana Mollmann
Kyle Redd & Sarah Vann Drake
Parker Dearborn & Melissa Rutz
Robert & Nicola Royston
Miles and Tessa Monroe
Michael & Amber Cross
Men McHenry & Cameo Cross
Maxime Zzaoui & Torri Smith
Benji Schwimmer
Arjay Centeno
Deborah Szekely
- DEEJAY STARS -
Forrest Hanson
Sarah Piddington
Martin Casillas
Larisa Tingle
Sue Davila
Butch Viola
Mike Gallo
- SPECIAL FEATURES -
Champions of Champions
Robert Royston Intensive
Country Bootcamp
Charity Dinner
- EVENT OVERVIEW -

The Phoenix 4th of July Swing Dance Convention is America's oldest and longest-running West Coast Swing dance convention. Held at the scenic Camelback Inn & Spa, this event attracts dancers from all across America and over a dozen foreign countries.
Among the many features are the "Champions of Champions" division
that features one the greatest collection of champion dancers of any
event in the country competing head to head.

When you combine the beautiful desert setting, holiday weekend and
level of dance talent, you'll want to spend your 4th of July in Phoenix.